I almost didn't write this post. Seriously, who wants to look back on 2020? It's in the rear view mirror, and that's where it should stay, right? But since I started doing these year in review posts I have found some benefit to reflecting on the things that went well and not-so-well during the year. It at least allows me to start the year on the right track even if I never look at it again throughout the year. So here it goes.
If you're interested in reading the prior year in review posts you can find them here: 2019, 2018, 2017.
Products
In the past I had been looking to sell off some plugins that no longer were in line with Amplify Plugins core offerings. Amplify Plugins focus is on ecommerce related plugins. At the time I had a number of completely unrelated plugins and I just felt fragmented.
Last year I made progress towards that goal by selling Privacy WP, and adding a few new WooCommerce extensions.
This left WP-CRM System and Full Screen Background Images as the only non-ecommerce related plugins in our offering.
Sale of WP-CRM System
WP-CRM System is a plugin that I built back in 2015 to use in my own website design business. I built it because I just wasn't happy with the options for CRMs that were available in the market at the time. I built it to fit my needs but also made it available to others as a free plugin. As new features were requested by users, I made it into a freemium plugin. When I created it, I had no big plans for selling it as it truly was a means to scratch my own itch. When I did eventually start selling add-on extensions to it, I was still running the website design business so I didn't put much thought into the direction of the plugin side of the business.
Eventually as I decided to focus on ecommerce, I realized it was time to let WP-CRM System go.
Over the summer, I got in touch with Mario Peshev of DevriX and worked out a deal to sell WP-CRM System and all the related plugins. I had spoken to several potential buyers throughout the year, which didn't work out for one reason or another before getting in touch with Mario. I was really excited to find out that he was looking to acquire a CRM plugin because he has a great company and team that will be able to take WP-CRM System to the next level. I'm really excited to see what they are able to do with it over the next few years.
Full Screen Background Images
Then there was just one plugin left to find a new home.
I am still looking for a new owner for Full Screen Background Images. Since I acquired it nearly three years ago, it has seen a steady growth in sales and I would imagine that trend will continue over the next several years. It would do well in the hands of an existing company that sells plugins, or would be great for a new company that wants to hit the ground running and not invest a lot of time in developing a new plugin.
If you're interested in acquiring Full Screen Background Images and it's 20,000+ users of the free version, check out the information post I wrote about it.
WooCommerce Marketplace
One thing I wanted to try this year was to release a couple plugins on the WooCommerce marketplace to test the waters and see how well they would sell there.
There are pros and cons to selling on marketplaces, and I typically try to stay away from selling on marketplaces like CodeCanyon. However, the WooCommerce marketplace is where WooCommerce store owners and agencies who build WooCommerce sites tend to head to first in order to find plugins with the functionality they are looking for. Since WooCommerce handles a lot of the marketing for the plugins on their site, it makes it a little easier to sell there as opposed to selling on a brand new site no one has heard of before. Additionally, they handle the first level support and only forward support tickets to us when there is a problem with the plugin that they can't diagnose on their end (bug fixes, etc.).
The downside to selling on the WooCommerce marketplace (or any marketplace for that matter) is that they take a percentage of each purchase, so I'm not getting 100% of the purchase price. Plus if they decide to run a sale, my commission is reduced by the amount of the sale. Additionally, I'm sort of at the whim of WooCommerce because if they decide to shut down the third-party developer marketplace, sales will dry up immediately. It's not exactly the "own your platform" experience that I tend to be an advocate for.
With all that said, I wanted to see if the pros outweighed the cons for myself. The best way to do that was to start selling a couple plugins on their marketplace.
Auto Update Cart
I developed Auto Update Cart back in 2019, but was not very successful with selling it on my own, so I thought it was a good candidate to start selling on the WooCommerce Marketplace. Worst case scenario is that it also didn't sell well on their marketplace. Best case scenario is that it would start selling better. Either way I wasn't losing anything by moving it to their marketplace.
Auto Update Cart allows the WooCommerce cart to update totals whenever a customer changes the product quantity. Normally in WooCommerce a customer will have to click the Update Cart button in order to update the totals. By missing this step and proceeding to checkout, they may end up buying the wrong quantity. If they buy too much, they'll be upset that they were charged more than they were expecting. If they buy too little, they'll be upset that they didn't get the expected quantity. Auto Update Cart helps to solve this issue.
Since I had a difficult time selling it on my own, I figured if it sold better on their marketplace, it might prove to be worthwhile to continue developing other plugins for their marketplace. Fortunately, it started selling pretty well after I added it to the marketplace, and sales increased throughout the rest of the year.
Product Condition for WooCommerce
Some stores sell a mix of new and used products. Some don't sell any new products at all. When you sell products online, it is useful to indicate what condition the products will be in so that the customers know what to expect. By default, WooCommerce doesn't have any way to indicate in a clear, consistent format what the condition of a product is. It is possible to add the condition to the product description, but often times that gets buried down below the rest of the product information and may get missed by the customer.
Product Condition for WooCommerce solves this problem by adding a line near the product price and add to cart button, which indicates what condition the product is in. It's a simple, one line status, which would read something like "Product Condition: Used". This can also be displayed on the main shop page under the products so that customers will know what condition the product is in before clicking through to the product page.
Additionally, the plugin adds Schema.org markup to the product so that search engines know what condition the product is in. That way when a potential customer goes to Google and searches for a "used iPhone 11", sites that specify the iPhone 11's condition as "used" can be shown higher in the search results since they're more relevant than another store that is selling a "new" iPhone 11.
Again, there isn't a way to do this in WooCommerce by default so I figured it would be a useful addition to many shops.
Results
So far I'm happy with the sales of these two plugins on the WooCommerce marketplace. I'm not going into early retirement off of the sales that they made, but I wasn't expecting to either. Both started generating revenue pretty much right away and continued to sell throughout the year, so I'm calling this experiment a success. I may try to add other plugins to the WooCommerce Marketplace in 2021. I don't know for sure whether or not I will add any existing plugins to it or develop new plugins. Either way I will be keeping Auto Update Cart and Product Condition on there to take advantage of the marketing that WooCommerce offers.
Conferences
As with pretty much everyone else, conference attendance for me came to a screeching halt in 2020. However, I did get to attend (and speak) at my local WordCamp in Phoenix in February before all of the lockdowns took place.
While the lockdowns and travel restrictions brought about a great deal of online conferences and meetups, I opted to not attend any of them. For me, the biggest benefit to attending a conference is to meet new people and catch up with old friends. At most of the WordCamps I attend I rarely attend the talks because I get caught up in conversations in the hallway. Don't get me wrong – it's not that I think I know it all and don't need to learn from anyone else. I just realize that I can't have the in person conversations after the conference has ended, but can usually watch the talks online.
Plus, I wound up getting "Zoom fatigue" between all of the podcast episodes I recorded and other work meetings that I participated in. Online conferences just don't have the same appeal to me. Hopefully we'll all get back to in person conferences in the near future.
Personal
At the end of 2019 I set a few personal goals. The goals were mostly to keep me on track so I didn't slack off on the things that I wanted to get done.
First was related to fitness. I wanted to run 1,000 miles in 2020. With the lockdowns and basically nothing else to do, I had plenty of time to get this one done. I ended up finishing the year with 1,015 miles. That works out to about 2.77 miles per day. It doesn't seem like a lot but I only run every other day and I took a few weeks off in the summer for health reasons so I'm actually pretty happy to have achieved that goal.
Another goal I had was to complete the German language course on Duolingo. I had started it over the summer of 2019, and finished it in mid-December of 2020.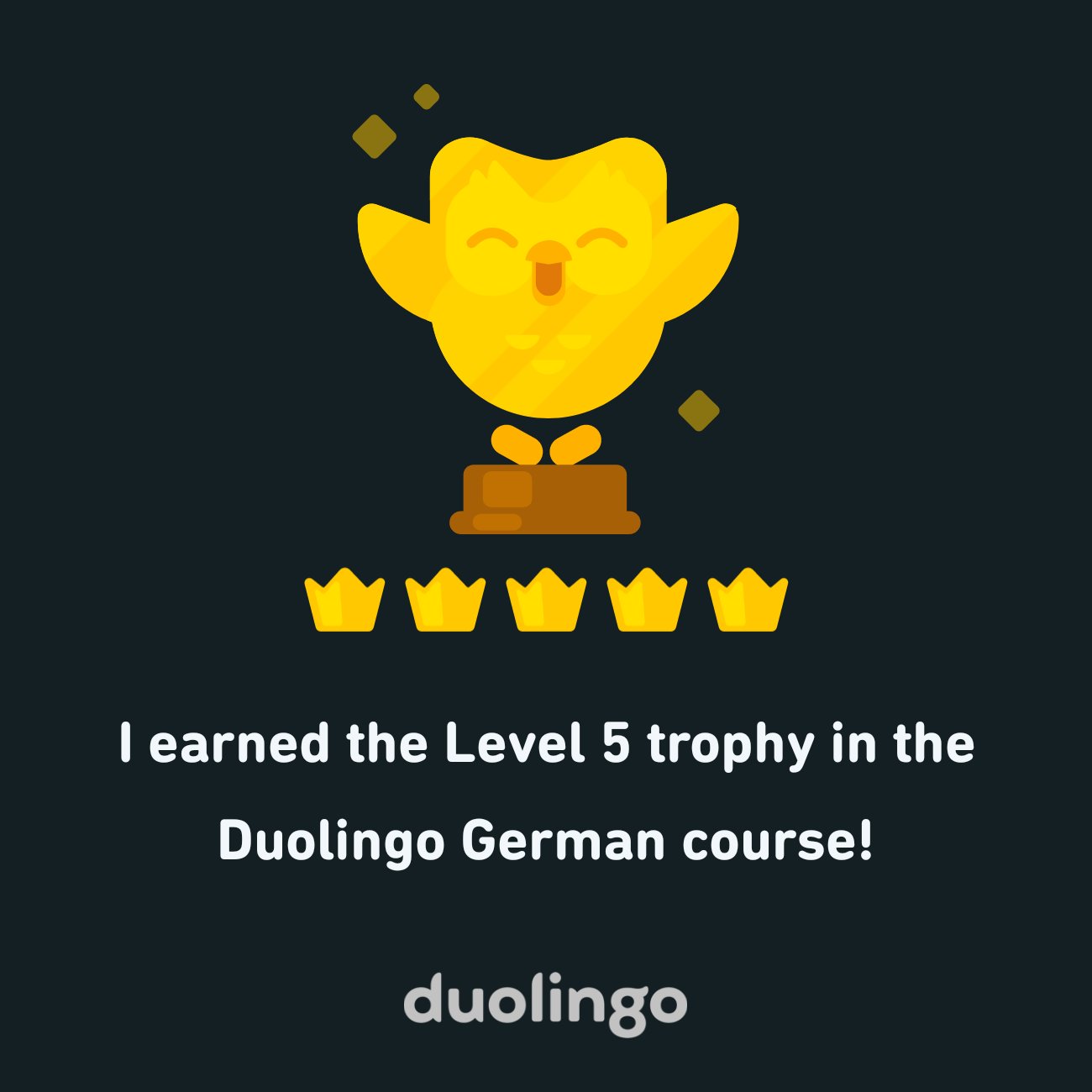 I found the key to finishing it and retaining the language was to be consistent. It took me 524 days in a row to finish the course. If I only did it sporadically, I likely would have quit on it a long time ago. I probably wouldn't have retained much of the language either. If you're interested in learning a language, give Duolingo a try. Although, since finishing German I started their Polish language course and found it isn't quite as good as their German course. Your results may differ depending on which language you choose.
Travel
Our family had planned several trips in 2020. Pretty much all were canceled due to the travel restrictions and lockdowns. Instead, we took a few short trips to places that were within a few hours driving distance from our house.
One trip was to Out of Africa, a wildlife park with lions, tigers, and bears (oh, my!). Plus it had a lot of other interesting animals that our kids enjoyed seeing. Due to the social distancing requirements, we viewed the animals in the park from the comfort of our car as we drove around.
We also took a drive up north to get a break from the Arizona summer heat to visit Meteor Crater. Meteor Crater is, as the name implies, a crater formed over 50,000 years ago by a meteor impact. It is one of the best preserved impact sites on Earth as many others have been leveled down by erosion. It's about a mile wide and 550 feet deep. To put that depth into perspective, you'd have to look down 250 feet to see the top of the Statue of Liberty if it were in the crater. The Washington Monument would be just about at eye level.
While we were up that way, we also decided to swing by historic Route 66. Then on our way back we snapped a couple quick photos of us????"standin' on the corner in Winslow Arizona"????
RIP Roxy
Unfortunately our family lost our pet English Bulldog, Roxy over the summer. She was our "first child", when my wife and I got her just a few months after getting married. She lived a good long life for a bulldog – nearly 12 years, but she'll be missed.
Mental Health
In last year's year in review post, I talked about having a goal to work on my focus. Towards the end of 2019 I felt like I was very scattered and my productivity was suffering because of it. I struggled to figure out why I had trouble focusing. I began researching what could be causing my lack of focus as well as other symptoms I was experiencing.
As many of you know I served in the Army and did a deployment to Afghanistan in 2010. Since I served in an infantry unit, and was in combat, I took a look into the symptoms of PTSD. It turns out that one of the symptoms of PTSD is having trouble concentrating. As I read more about it I realized that I had a lot of the symptoms of PTSD. Some of these I thought were just not out of the ordinary. To be clear, what I've been experiencing isn't out of the ordinary for someone who has experienced traumatic events. I just felt like it was "who I am" and didn't think much about the symptoms I was feeling.
Over the summer I made an appointment with the VA mental health department. Due to the lockdowns all the appointments were done remotely, which added to my "Zoom fatigue" that I described earlier. Still it was good to be able to talk to someone about what I was going through.
Ultimately, it turns out that I was diagnosed with PTSD and depression. Both of which I had just been living with for the last 10+ years without realizing that I was actually suffering from any mental health conditions. After returning from Afghanistan I spoke with a mental health counselor for a little while, and I thought I was good to go after that. Unfortunately, that wasn't the case.
So for the last few months I've been working on getting my mental health straightened out. I don't know if any of those conditions will ever totally go away, but I'm doing my best to work on them.
2020 Goals Report Card
Last year I decided not to set specific goals like increase revenue x% or anything like that. I suppose I got specific with the running goal, but that was just to keep me on a regular routine. The biggest part of the goal was to work on the building of good habits and removing bad habits.
I have made some good progress in that area. Since starting to see the VA psychologist I've found some benefits in meditation, journaling, and sketching/painting.
Here are a few of the sketches and paintings I did during the year.
I have noticed a couple benefits to the artwork. First is that when I'm sketching or painting, I get really focused on whatever it is I'm creating. I think this is helping me learn to be more present and "in the moment" when I need stay focused doing other things too. The second benefit is that I am able to relax and just have fun with it. That's something I've had a really hard time with so it's good to have been able to find an activity that actually helps me relax.
2021 Goals
Just like last year, I'm not going to make specific goals. I want to prioritize my mental health, and take a deeper dive into my artwork. If you follow me on Instagram, I post a lot of my sketches and paintings there.
As for business goals, again I'm not making specific growth goals or anything like that. I want to find a new owner for Full Screen Background Images, and will be actively seeking individuals and companies who can continue supporting it.
What are your goals for 2021?